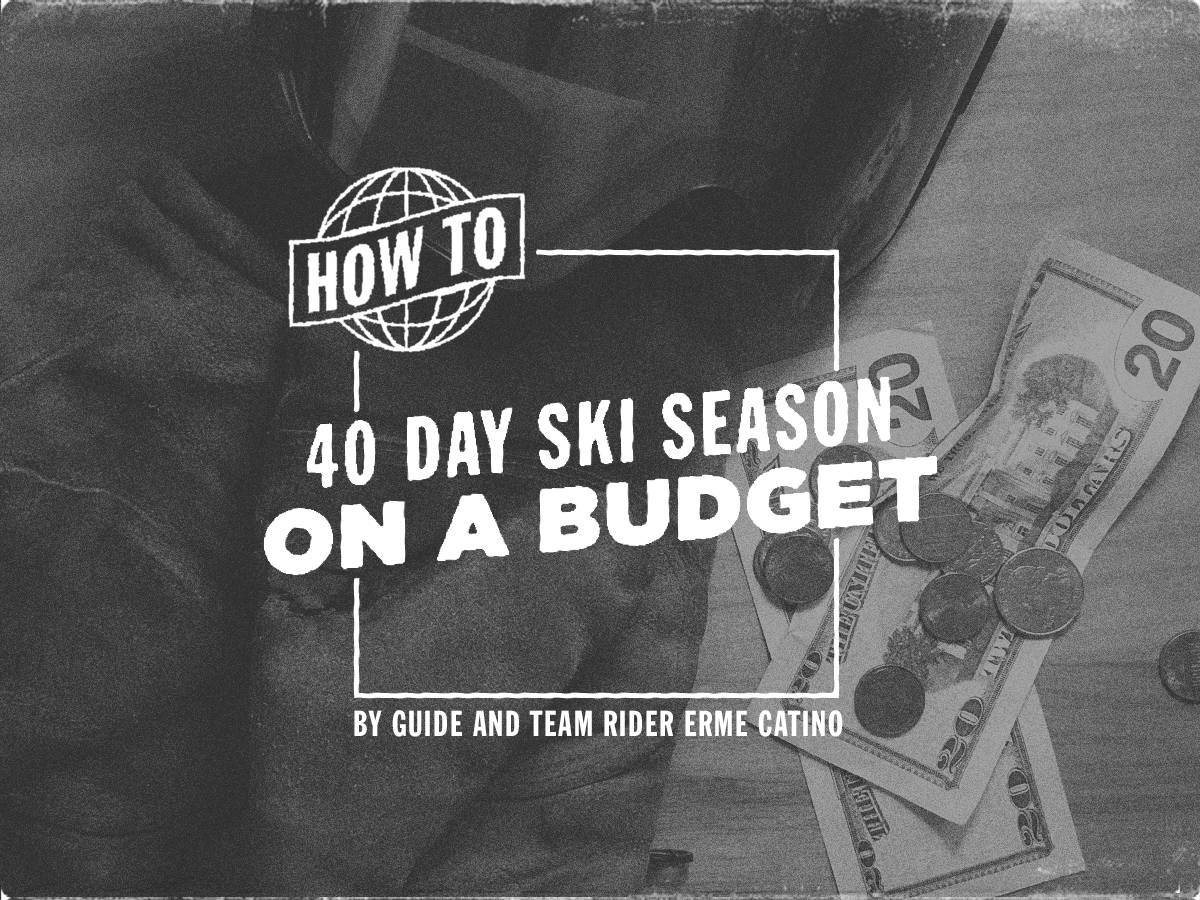 The Ultimate Guide to Skiing on a Budget



There is no way around it, the expenses associated with skiing can quickly break the bank. Whether you're an alpine or backcountry skier, the auxiliary costs—beyond skis, boots, bindings can begin to add up, all of which end up hitting the bottom line of your bank account. It's why many of those who work in the ski industry do—to keep the dream alive and to not end up broke while doing it. However even if you don't give up your job that makes a real salary, there are several tricks that can help make skiing on a budget a realization, many of which have been in play by ski industry veterans and our Team Riders for decades.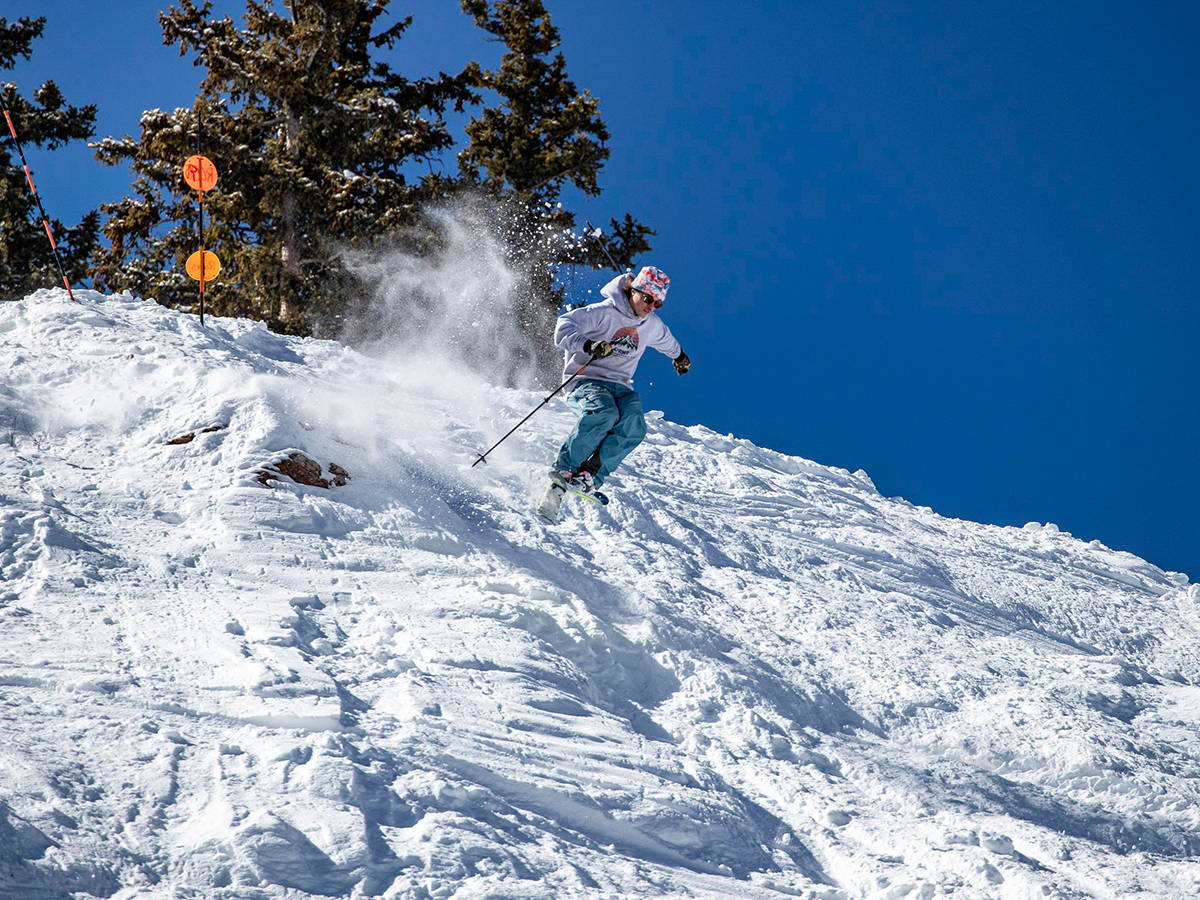 ACCESS


Think of access as your lift tickets, mobility to and from your weekend travel destinations, backcountry trailheads, etc. Regarding lift tickets, and how to find lift ticket deals, the cardinal sin would be to pay for any lift ticket the day of at the ski resort. If you're looking for lift ticket deals, there are plenty of options online like Liftopia, or local ski shops, ski town grocery stores, etc.
Lift Passes

Many ski resorts also sell cards that give you a discount on the lift ticket day rate, this offsets the costs if you don't plan on skiing there that often to justify a season's pass. Lastly, there are passes like the Mountain Collective, Ikon, Indy Pass, etc. These passes are helpful in that they allow skiers to pick some days at a variety of different resorts, but be forewarned these corporate passes have also led to the demise of many ski towns in the traffic and housing sector—so they're not all good, and don't forget about those small ski areas. "There are more hidden powder stashes [at the independent ski resorts] and there is something nostalgic about riding up those old riblets that haven't been replaced since the 70's," says Team Rider Keree Smith.
Earn Your Turns


If you plan on earning your turns in addition to riding lifts, it's important to not only have the appropriate backcountry gear, but be comfortable in using it and matching your decisions to the avalanche forecast for the day. This takes time, practice, and guidance, but can also be very fulfilling. If spending a ton of time in the backcountry seems daunting, loads of ski resorts are implementing uphill policies at their ski areas to accommodate the growing number of skiers looking to earn their turns—these uphill fees are much cheaper than a lift ticket. And while backcountry skiing can seem like a budget option for resort skiing it also entails specific alpine touring gear and worthwhile educational courses, so don't be cheap when it comes to safety.

Access - In Review

Whether you're skiing at the ski resort or in the backcountry, driving to and from the mountains and parking can add an additional and often substantial burden on your wallet. Over the past few years ski areas have been implementing parking fees and restrictions to regulate the traffic to the ski areas. While some did this to offset the Covid refugees moving to ski towns, some are keeping these exorbitant costs just to park your car – and it's feared they'll stay just like baggage fees did in the airline industry.

So, if you plan to stick to a season long budget carpooling and taking public transportation need to be in your wheelhouse—luckily both ski resorts and ski towns have friendly policies in place for vehicles with three or more occupants and free ski busses. Also, think out of the box, for example if you only have two people riding with you one day and it's dumping and you want to get to the mountain ASAP, swing by the ski bus lots and scoop some more people up in your ride to get the carpool budget deal.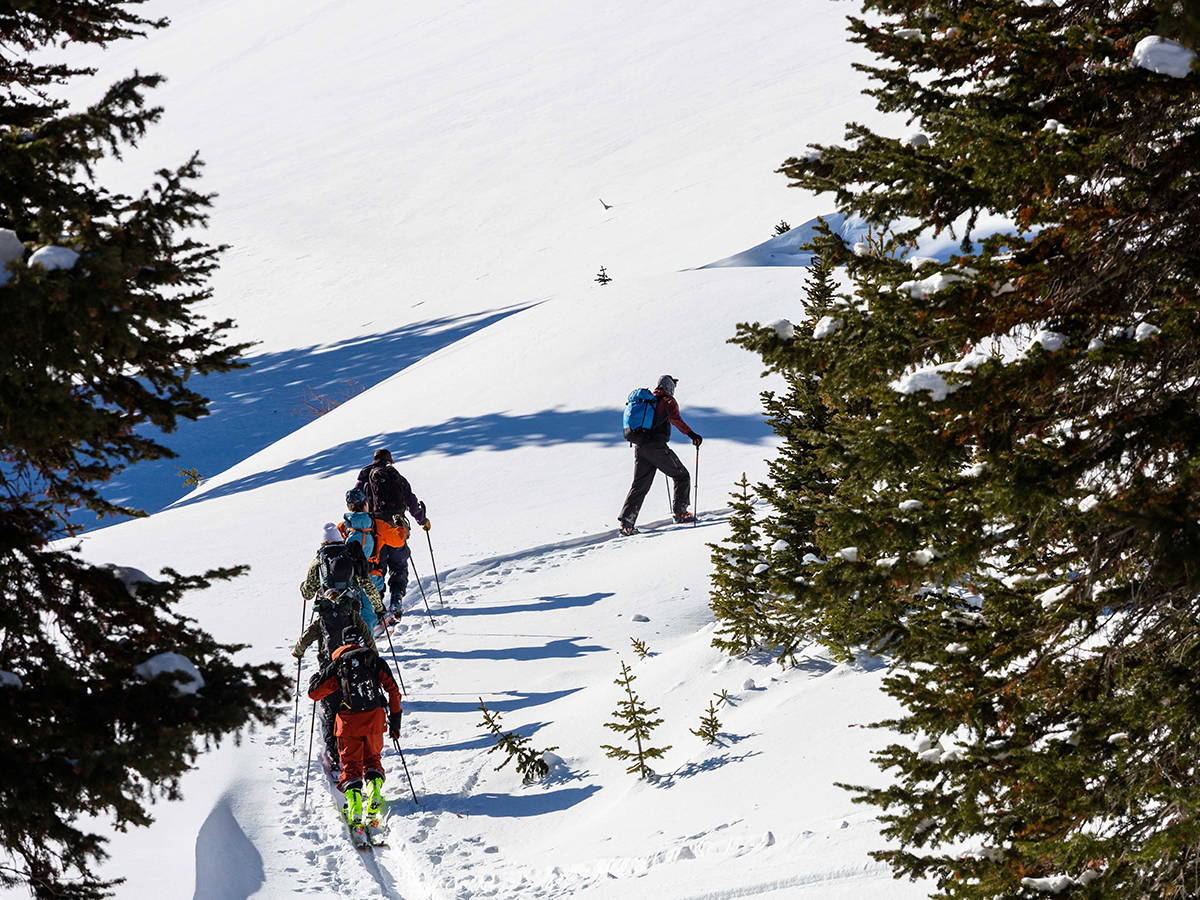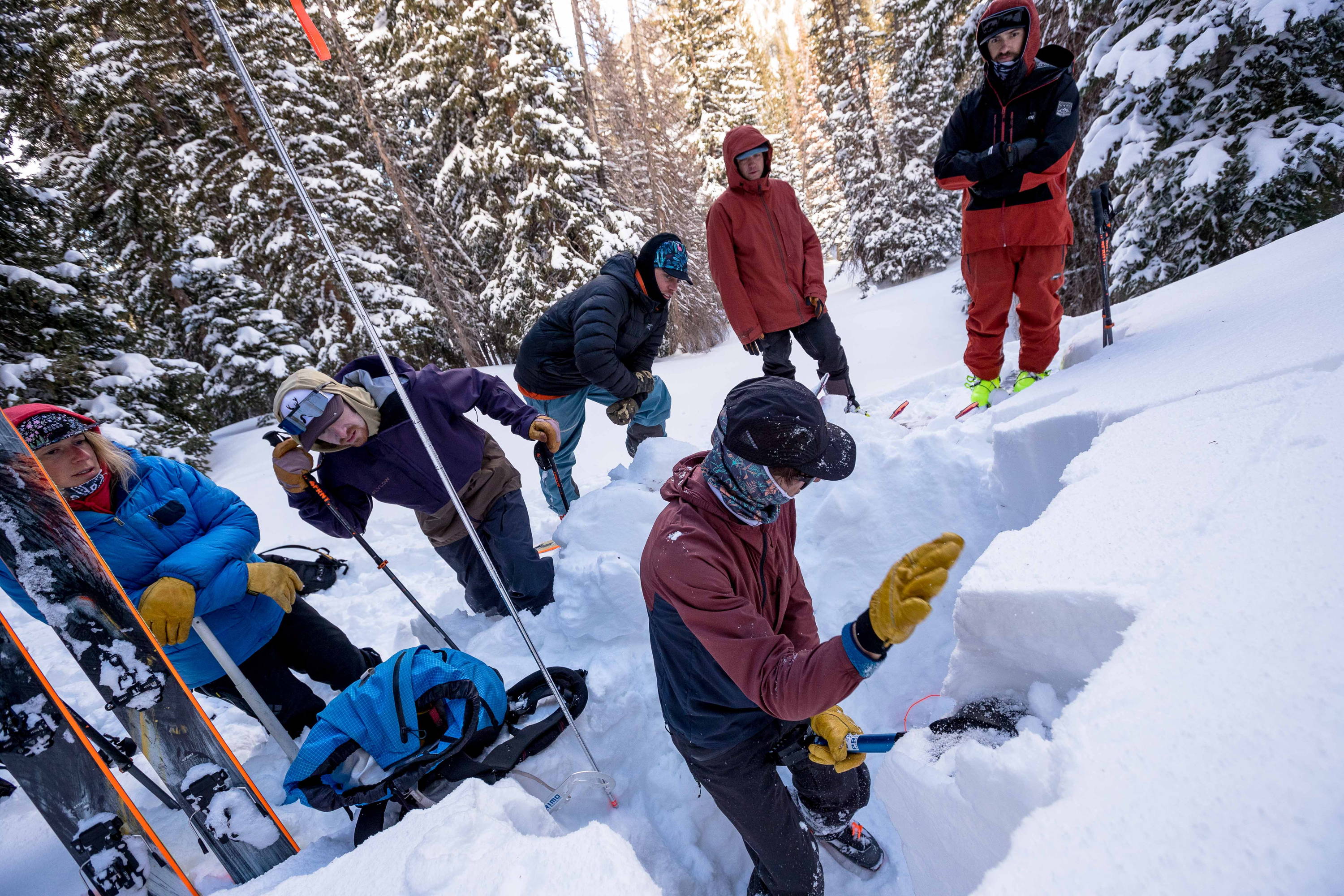 FOOD
BRING YOUR LUNCH AND EAT IT TO


Before we get into the tricks and tips to skiing on a budget, food and rent/mortgages are probably the biggest expenses in our busy lives. Think about how much you spend weekly and how you can maybe trim some of those costs to help roll some cash for ski season.

Buying food at the ski area is a huge cash suck. So be sure to bring your own lunch and snacks. Team Rider Erme Catino notes "I hardly ever buy anything at the ski area unless it's a coffee and small cookie, and when I'm touring, which is often my program, I'm making my own energy bars and snacks."

Corinne Prevot, Team Rider and Founder of Skida, echoes those food at the ski area thoughts. "Make snacks/lunches like hard boiled eggs, celery and peanut butter, and turkey sandwiches more routinely, and avoid those frequent café visits which add up over the season. Also, organize potlucks with friends for feasting on a budget."

Typically, the après scenes at ski areas aren't nearly as expensive as those $20 hamburgers, and there are often drink specials. However, bringing a few cold ones for tailgating at the truck or to toss in the snowbank if you took the bus, can save you some money as well.

Either way if you're skiing on budget, bringing your own food and beer are excellent ways to save money and it can be super fun too. With the pandemic we've seen some elaborate tailgating from grilling up breakfast sandwiches in the morning to folks hanging out by a portable fire pit at the end of the day.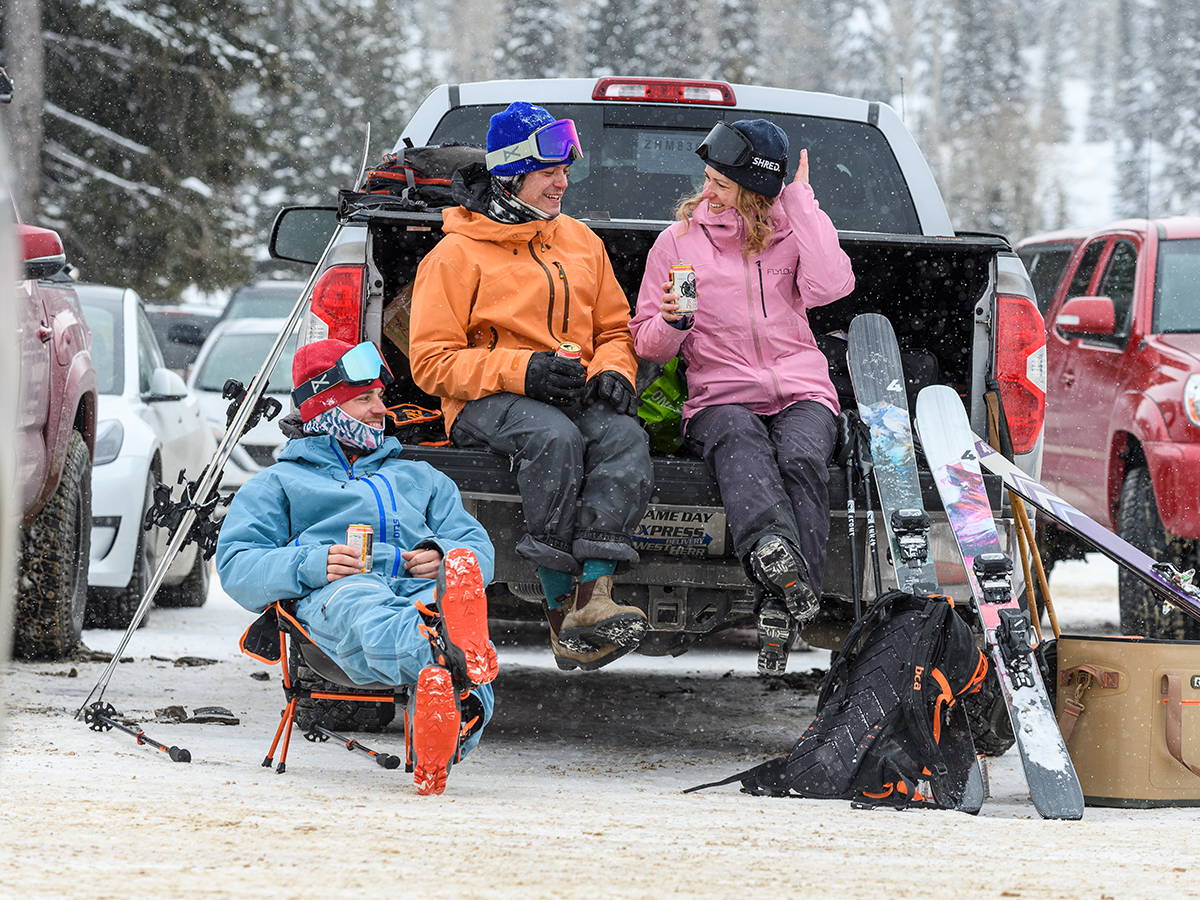 TRAVEL


Ski travel is an essential part of our sport, even if you're skiing on a budget, be it chasing a storm cycle or visiting a new mountain range and ski resorts. If you plan on traveling, be flexible with your dates and timeframe and note that even the cheapest lodging and airfare will be more expensive during busy times of year, like the holidays, President's Day weekend, etc. Similarly, if you travel in the spring, there are often hotel and lift ticket deals given the lack of usual crowds.

If you plan on flying, pack tight to avoid baggage fees: https://4frnt.com/blogs/blog/ski-trip-checklist, and visit smaller resorts and mountain towns. Also be mindful of how expensive it's to get there. Visiting the less elaborate ski resorts will not only save money on lift tickets, but also hotels/AirBnB's, and food.

If flying isn't an option, a road trip is a more amenable to planning a ski trip on a budget. It opens up more possibilities, rather than being constrained by airline fees and the potential hardships of getting around without a truck/car—that is unless you're in Europe where they are experts at moving skiers around.

"If you're driving, do as much grocery shopping as you can beforehand," says Team Rider Jake Doan. "It's easy to fall into the trap of not having meals prepared, and you end up spending more money eating out. Also, get an AirBnB with a kitchen, you will save you lots during a trip." Similar to sniffing out cheap lift ticket prices while at your home mountains, pre purchasing your lift tickets before you travel is a good idea. Also, not staying slope side and taking public transportation will help a great deal in saving money.

All in all, it's entirely possible to execute a ski season and skiing lifestyle on a budget. It revolves around being flexible and spending money where it's needed without superfluous costs. Those savings will help in the long run too, as photographer and Team Rider Sam Watson explains, having extra money helped replace some sketchy bindings he bought on consignment one year—from a pro skier no less... So do a little math, don't hurt your brain too much, and figure out how to maximize your shredding over being stuck at work.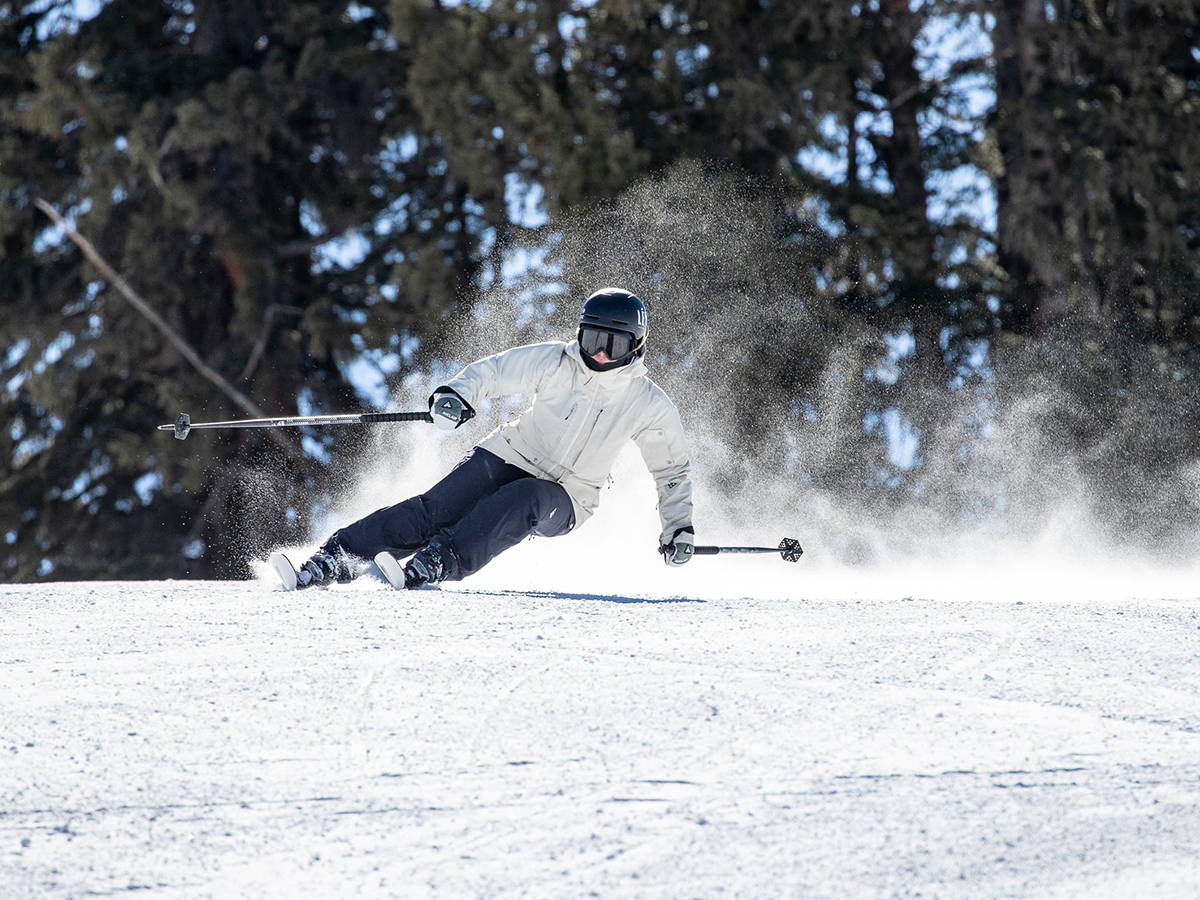 Still need help?
No need to worry. If you click on the 4FRNT live chat tool at the bottom right hand corner, a professional ski enthusiast will assist you with all of your needs!