In Partnership with Exum Guides

The cobalt cold blue skies and recently waning storm casted a glow on the mountains for any eager backcountry skier. An approaching skier looked across the valley onto steep avalanche prone ramps… "Nice, looks mellow…'' A zone that has taken years to unlock as a guide and snow professional and that has killed many... Mellow? As skiers we constantly are looking to go further and deeper, but unfortunately along the way some backcountry skiers haven't grasped the difference between truly mellow (30-degree terrain) and avalanche prone slopes, when in the absence of higher alpine terrain, rocks, or ropes. Skiing avalanche terrain in deep powder requires years of stewardship, education, and a process developed which takes time to nurture—otherwise you're just getting lucky … and luck eventually runs out.
Backcountry skiing is anything but simple and straightforward, that is unless you are on and not connected to any avalanche terrain. Fortunately, by developing a process combined with avalanche courses such as a Recreation 1 and 2, you can begin to start putting the puzzle pieces together. The first is to develop a routine and checklist, and stick to it consistently. The second is eliminate any idea that avalanches are manageable, because unless you're a professional and have seen your fair share of snow moving (and even then the respect for avalanches are high), chances are that most are unaware and cavalier of what can occur when the curtain falls down on a mountain side. Which brings things back to developing a system that allows skiers to have a plan, and create good practices to adjust their terrain and exposure based on the hazards for the day.
The backcountry is a complex learning environment that is constantly changing, it's what makes putting the puzzle pieces together so fun. However, even before you embark on the education and knowledge it's important to get the gear and know how to use it.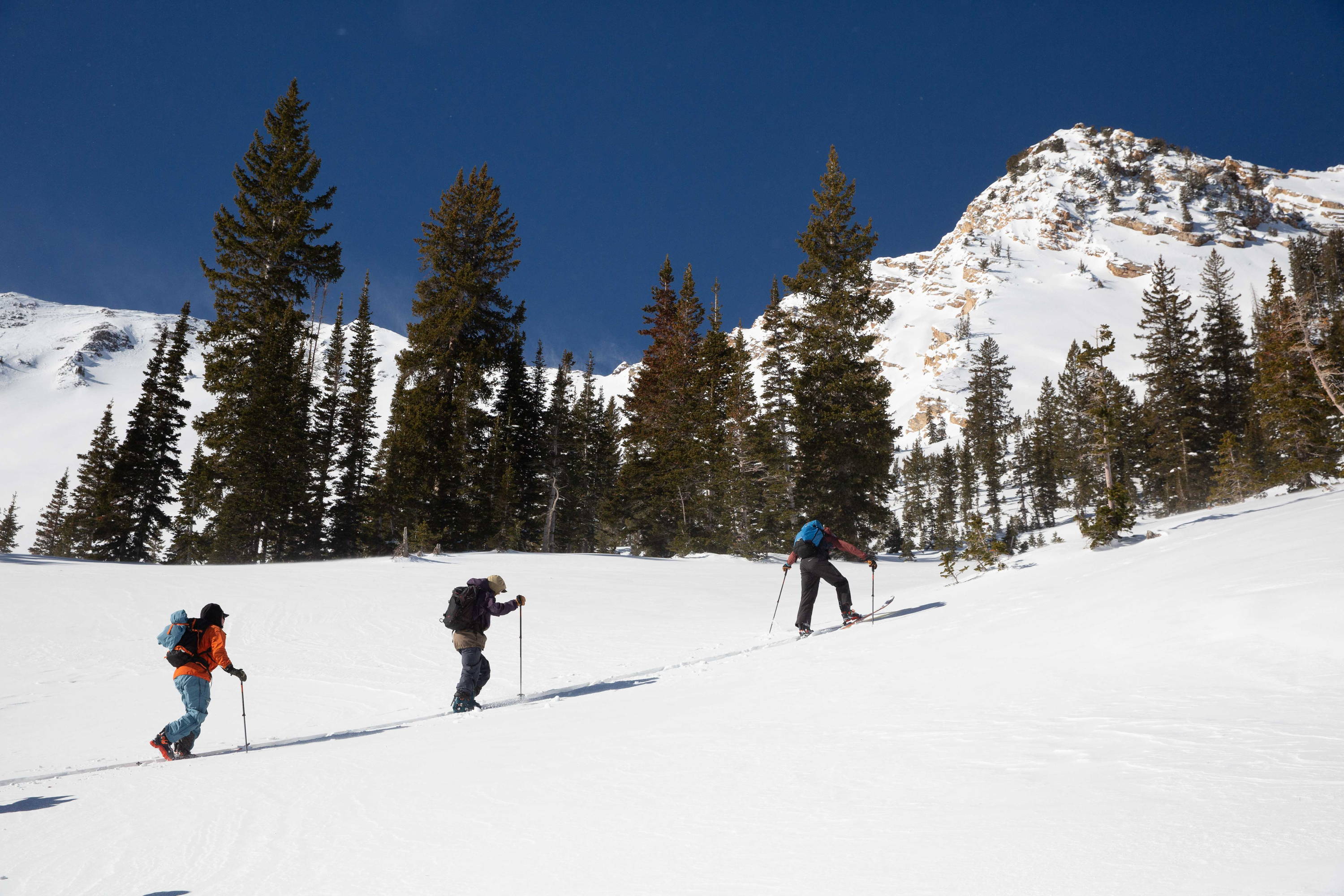 The American Avalanche Institute Checklist

Regarding the checklist and personal process, the American Avalanche Institute has developed a handy one which are incorporated into their courses, both recreational and professional. In this blog we'll chat about how this process can help steer you towards becoming a more proficient backcountry skier and a safer one.
First things first, you'll need to have a handle on the current conditions: the weather, the avalanche forecast for the day, and where and what the recent avalanches have been occurring on. This goes beyond the typical hazard rating for the day (Low, Moderate, Considerable, and High). If you want to assess snow conditions and move through terrain efficiently, you'll need to understand the intricacies of what avalanche problems you're dealing with, their size, and distribution. Then after you have a solid handle on that, you can begin to decide on appropriate terrain.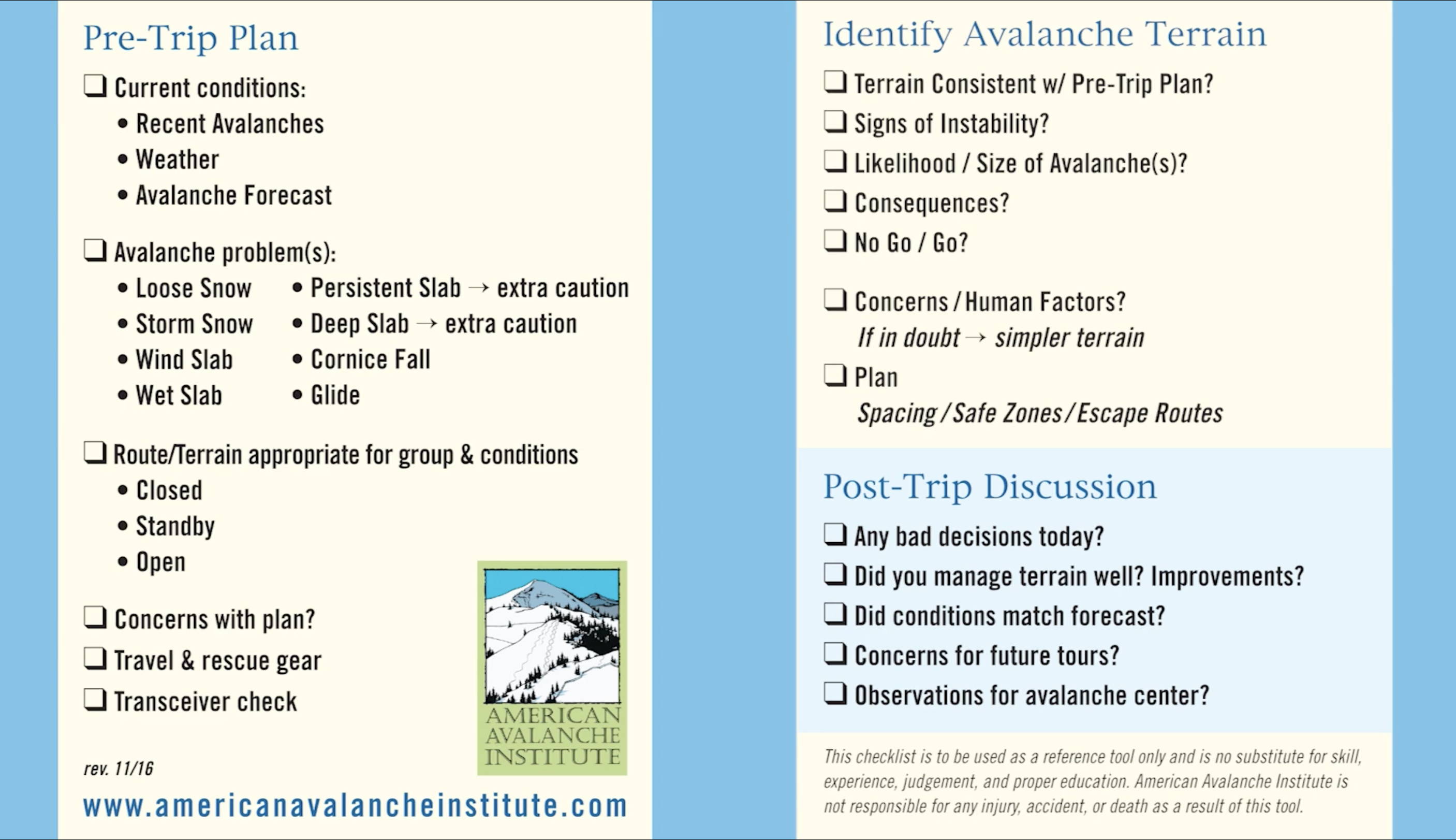 Choosing the Appropriate Terrain
Terrain is always the answer when it comes to managing risk and exposure, and some avalanche problems warrant stricter standards in the mountains. For example, persistent slab or deep persistent slab problems give avalanche forecasters grey hairs and for good reason given their unpredictability, and are a good example of when you need to dial back terrain choices. There's no outsmarting a persistent slab problem, and you can't work around it other than by staying out of avalanche terrain—making it different then a wind slab problem, where you can likely ski steep terrain as long as it hasn't been affected by the wind and loaded. However, don't underestimate wind slabs, storm slabs, or any other avalanche problems just because they're not a persistent slab, because often times people are surprised when any avalanche connects through terrain more than they expected or the speed at which they entrain snow.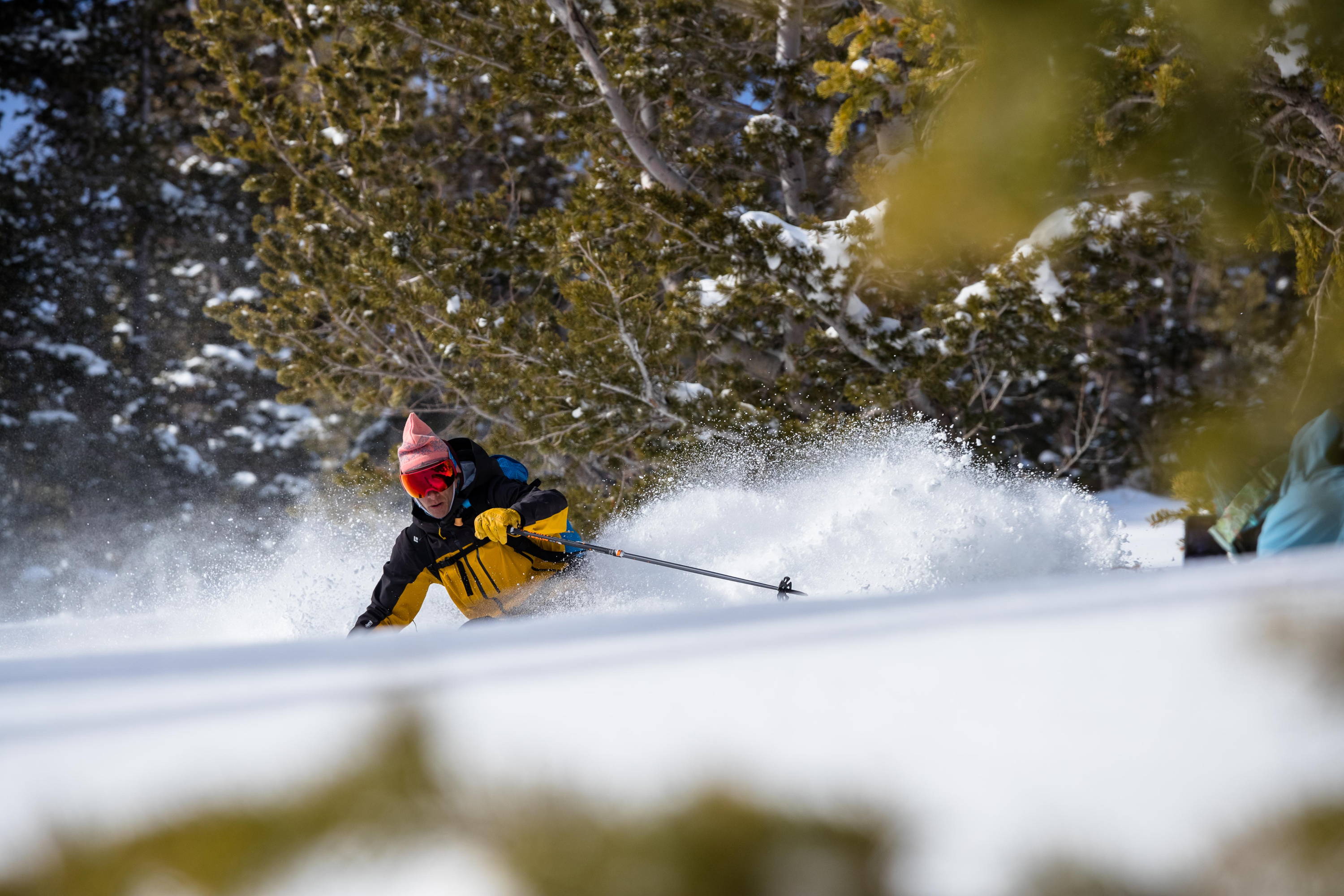 Starting Small and Building Knowledge
When you begin to venture into avalanche terrain for the first time, you need to take off small bites and learn along the way (via test slopes and through good mentors) rather than trying to tame a dragon the same day you pick up a sword. And when it's too much, and sometimes it is, then you stick to non-avalanche terrain (30 degrees or less). It's also important to have several options for the day so you're not just gunning for one objective which can lead to clouded judgements. Also remember what terrain is closed for the day when you make your plan – this should not change throughout the day.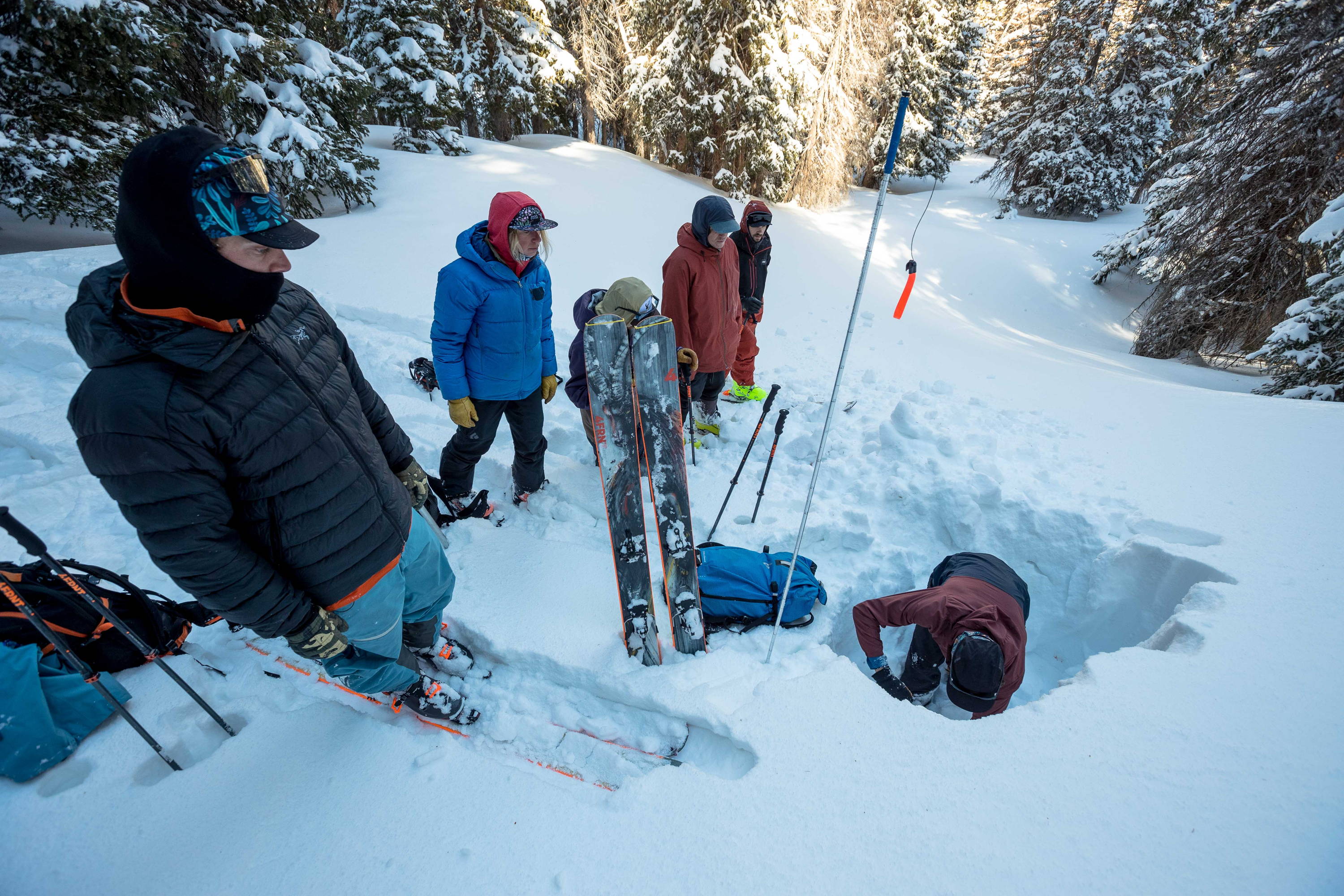 Making the Smart Decision Before the Day Starts
Many of these things can be done from the comfort of your home, on the phone, and while you're warm, well fed, and rested. It's important to do this when not in stressful situations because then poor decisions can be made – changing the dynamic of a ski group and their interaction with the broader backcountry ski community. As backcountry skiing has grown in popularity, knowing before you go is just the first step. After that you have to be able to implement those good practices and do it in the context of a broader community that all relies on each other for good travel techniques, beta on the snow and recent avalanches, and recognizing what is appropriate when traveling around the mountains.