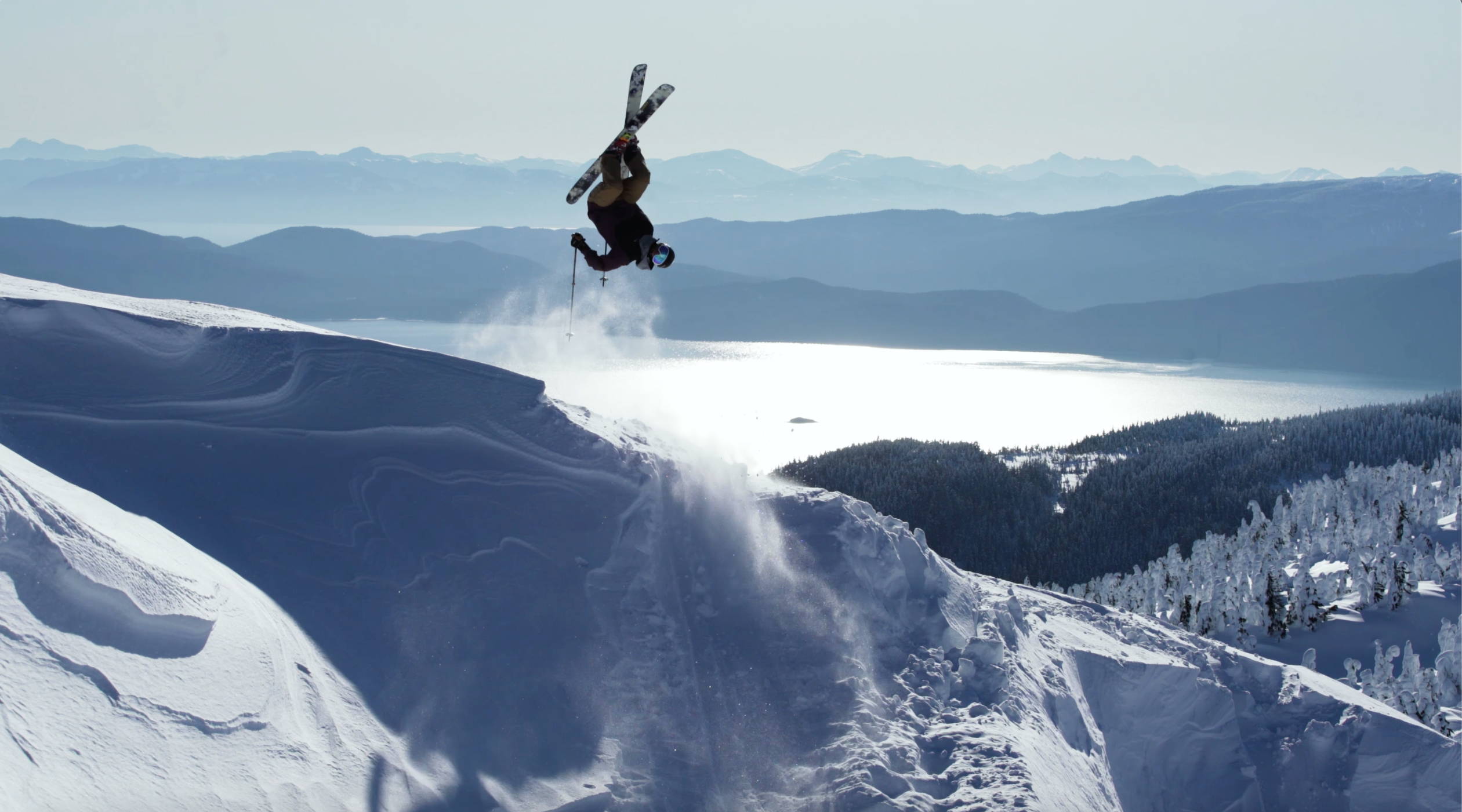 Airing over the ocean with Admiralty Island in the background PC: Riley Bathurst

Having spent a year of his childhood living in Homer, a little town outside of Anchorage, Team Rider Eric Lee O'Brien always felt drawn to go back to Alaska and ski. Getting to Alaska, however, always seemed HARD. It felt like it was worlds away, a big mission to get to, and expensive to access all of that unreal terrain waiting for him. In short, it never felt possible. But that started to change last year, when his team at Snowledge (a resort-connected GPS tracking app for skiers and snowboarders), partnered with Eaglecrest Ski Area. They began to hear all about the amazing Alaska terrain that can be accessed with a short flight from Seattle, and a 20 minute drive to the resort. Was it possible for him to get back to Alaska to accomplish his dream of big mountain AK lines, untouched pow, and stunning ocean views on a ski bum's budget? Check out Eric's trip below...


The alarm on my iPhone startled me awake in the early morning hours of a rainy, grey Seattle morning in early March. Gathering my wits, it quickly dawned on me that I was on my way to Alaska. My mood immediately changed from groggy (and slightly annoyed with my alarm) to excited and energized. It had been over 30 years since I lived in Alaska and I was pumped to be going back. Even better, the Snowledge team was making the trip up to Juneau on the tail end of 54 (that's right 54) straight days of snowfall. We quickly re-packed bags and set off through the damp early morning drizzle to the Seattle-Tacoma airport. Reaping the rewards of our early morning start, we moved quickly through the airport, grabbing a much-needed coffee and a breakfast sandwich as we made our way onto the plane.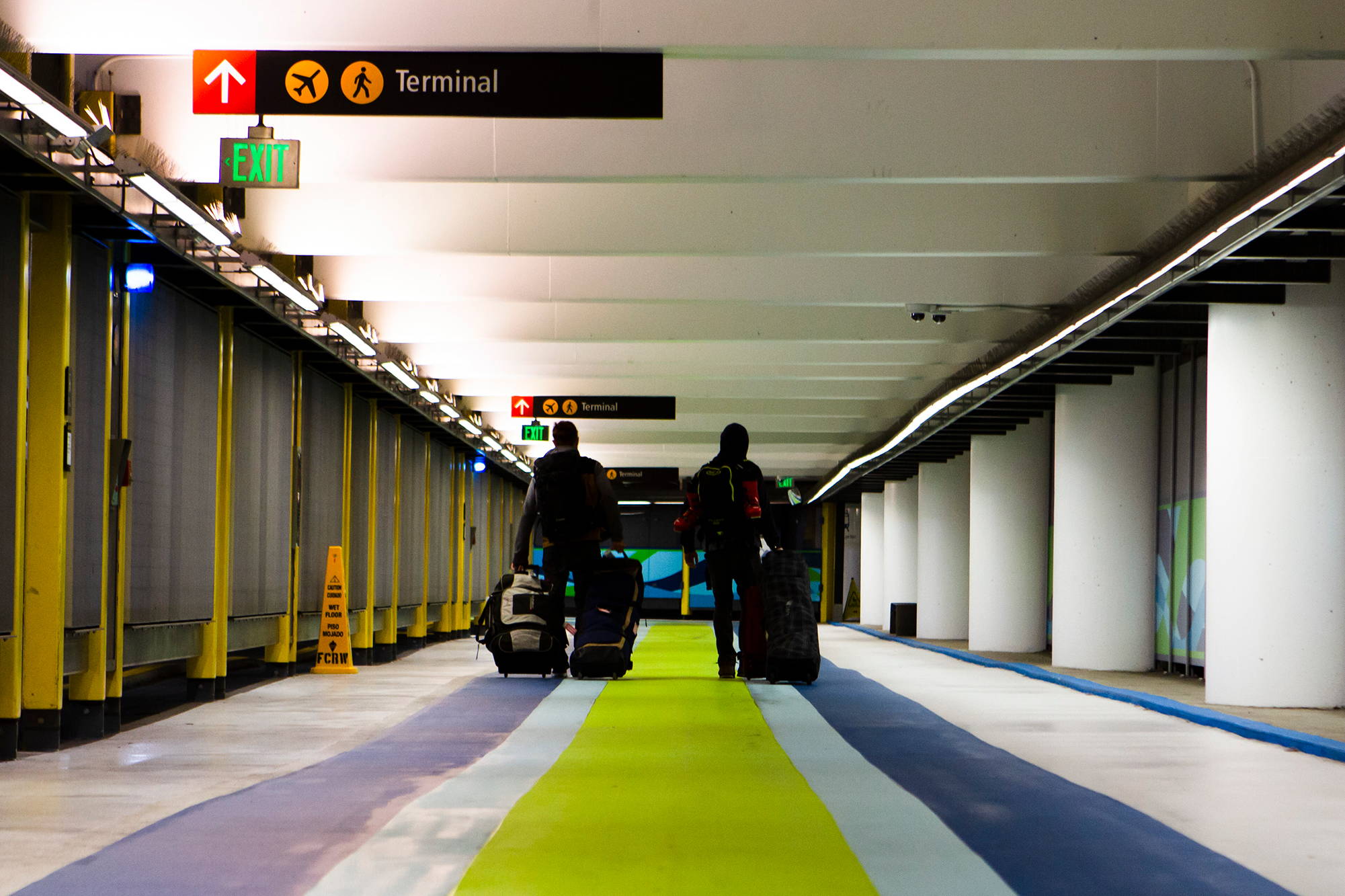 Early morning in the Seattle Airport. PC: Kenzie Morris an amazing 1,000,000+ visitors during the summer.

The flight to Juneau was a scenic two hour and thirty minute journey as we traveled north over the coastal mountains of BC. It didn't take long before I had developed a serious kink in my neck. My face remained glued to the small airplane window, staring out at the endless snowy peaks rising up out of the dark, blue water below. The approach to Juneau was stunning, as the plane banked east, bringing the iconic peaks of the Mendenhall Towers into full view. We descended low over the rugged shorelines and dense coastal rainforests surrounding the city, as the plane touched down and came to an abrupt, bumpy halt.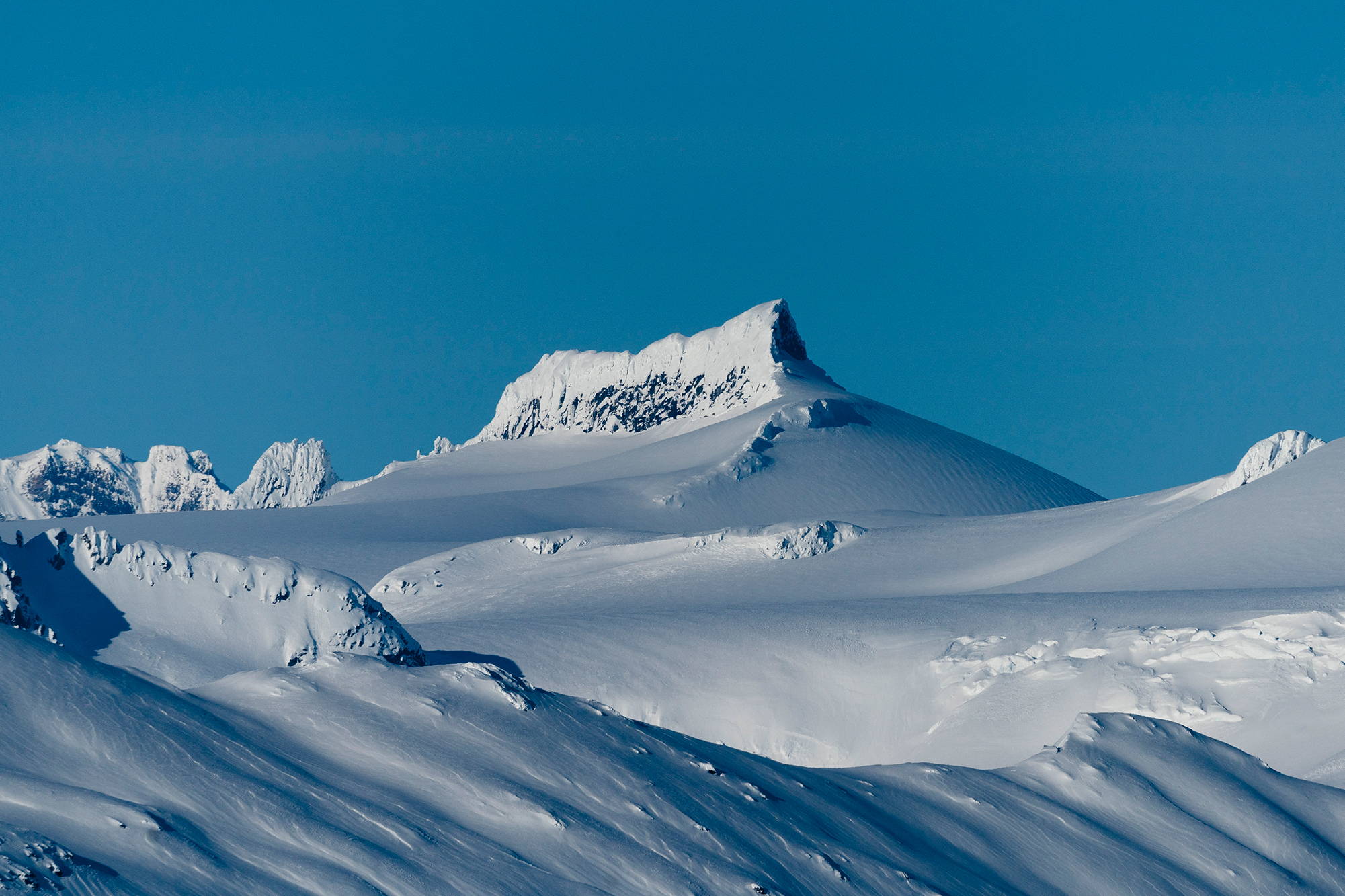 Endless untouched peaks around Juneau, Alaska. PC: Riley Bathurst

Shortly after landing, we picked up our rental cars and got just creative enough to squeeze our team of six, plus gear, into the classic mountain town wagons. We made our way into downtown Juneau, taking in the views of our objective, Douglas Island, across the blue-green waters of the Gastineau Channel. Our first stop in town was the Silverbow Inn. This modern boutique hotel has a roof deck hot tub, an impressive kitchen stocked with breakfast and snacks, and a comfortable lounge to plan the next day's ski mission. We spent the afternoon exploring downtown Juneau, which has only 33,000 full time residents, but hosts an amazing 1,000,000+ visitors during the summer.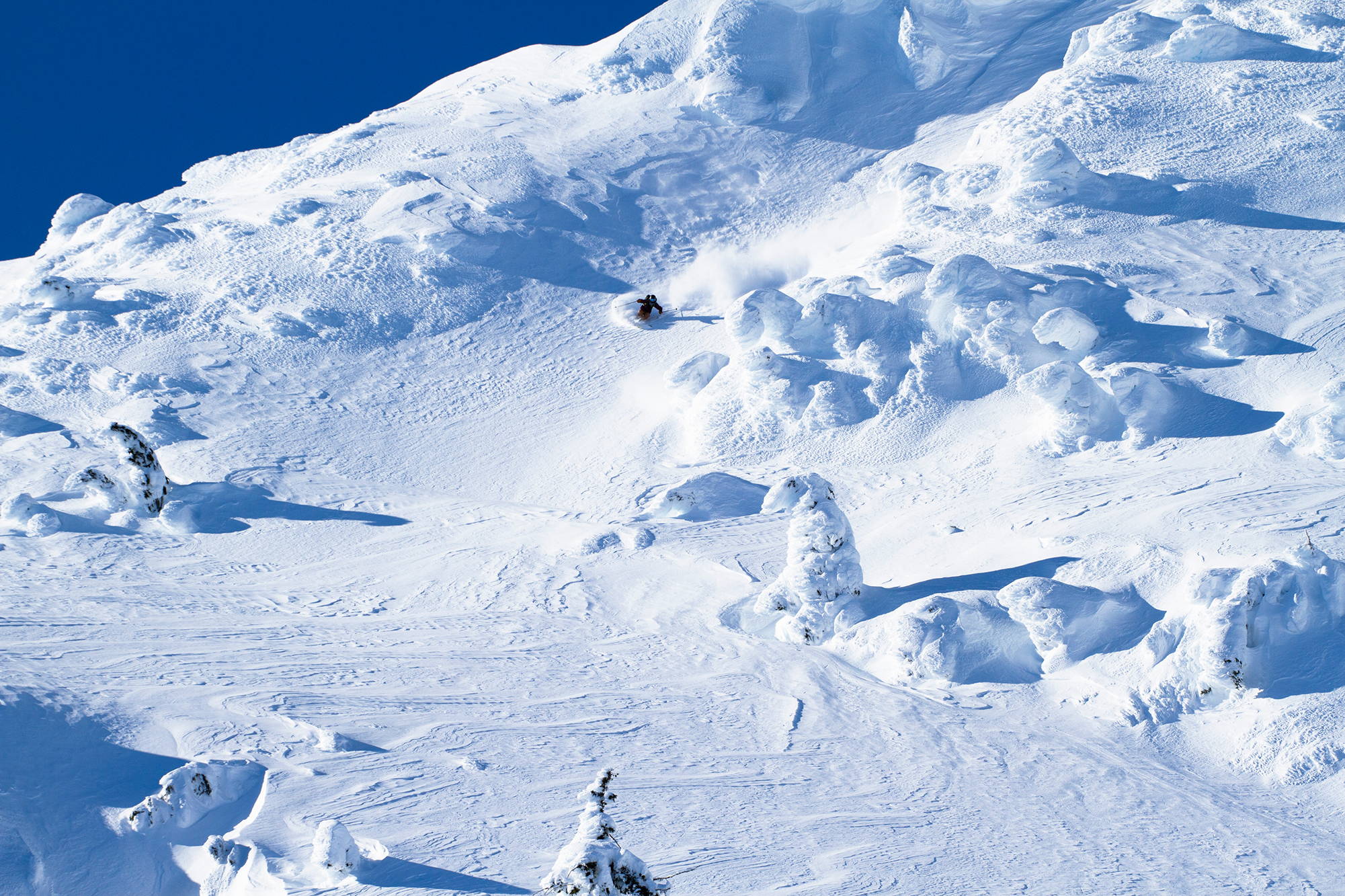 Blasting through the snow ghosts in the Eaglecrest sidecountry. PC: Kenzie Morris

We arose early the next morning and cooked up a hearty breakfast of fried eggs, sausages, and waffles for a delicious breakfast sandwich concoction. We topped it off with some dark, rich coffee from the sleek stainless steel espresso machine. The team packed up and made a quick 20 minute drive from downtown Juneau, across the channel to Douglas Island, and up to Eaglecrest Ski Area. Our excitement mounted as we arrived to bright blue skies and fresh snow at Juneau's community-owned mountain. Boasting 640 acres, 1,640' vertical drop, impressive backcountry access, and hardly a lift line, we were excited to start skiing.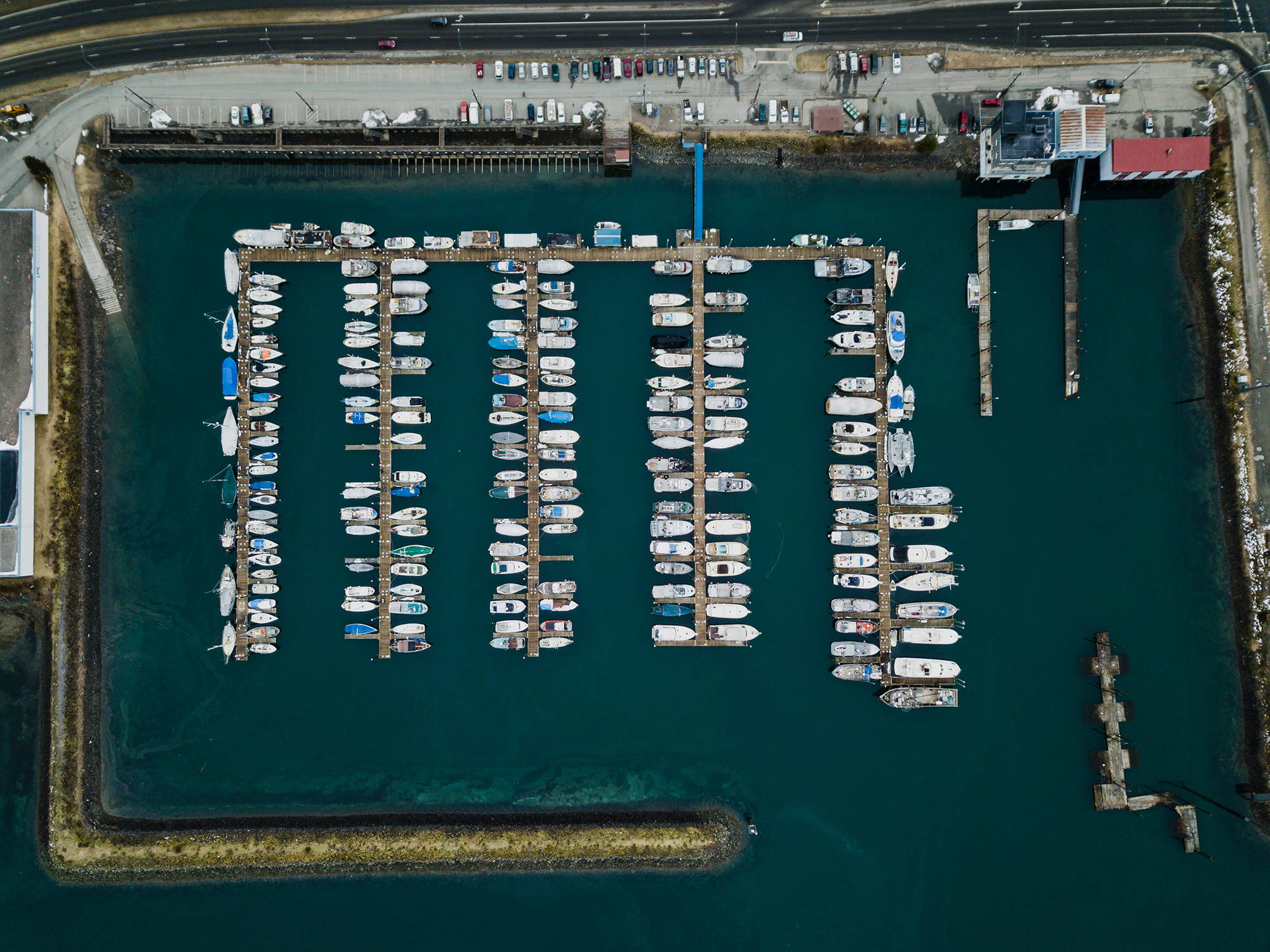 Juneau Harbor from the air. PC: Riley Bathurst

At Eaglecrest, we met up with our local contact Charlie Herrington, and jumped on the Ptarmigan chair, a classic fixed-grip double. Laying down high speed turns, we cruised down a fun, rolling groomer and back on to the lift. From the top of the lift, we made the short hike to Pittman Ridge, named after Juneau gold mining pioneer Tom Pittman. Right off the bat we lined up a steep, rolling north-facing pitch with cold, silky snow. We continued to warm up the legs with some pow turns and a couple of smaller airs, ending up in the valley below.

Hiking Pittman Ridge with Admiralty Island in the background. PC: Riley Bathurst

We pushed further out Pittman Ridge for our next lap, ready to rip the sun soaked freeride lines we had admired from the bottom of the previous run. I made my way to the top of an untouched chute that opened into a smooth apron ending in a decent-sized cliff. I dropped in and made a slash. The snow was soft and the light was perfect. A few creamy turns and a solid air later, I came out of the bottom hooting and hollering, thinking to myself "THIS is going to be one hell of a trip."

As the sun traveled overhead we continued exploring, hiking out to the seemingly endless sidecountry zones that extend north of the resort. We finished the day by stepping out a windlip, which overlooked the ocean and the tantalizing peaks of Admiralty Island in the distance. Fun Fact #1: The island is the seventh largest in the United States, and larger than several US States. Fun Fact #2: The population of grizzly bears on the island is 1,500, while the population of humans is 500. Maybe those tantalizing peaks could wait?? It was 5:00pm by the time we made our way down to the bottom of the resort, exhausted but stoked on a very good first day.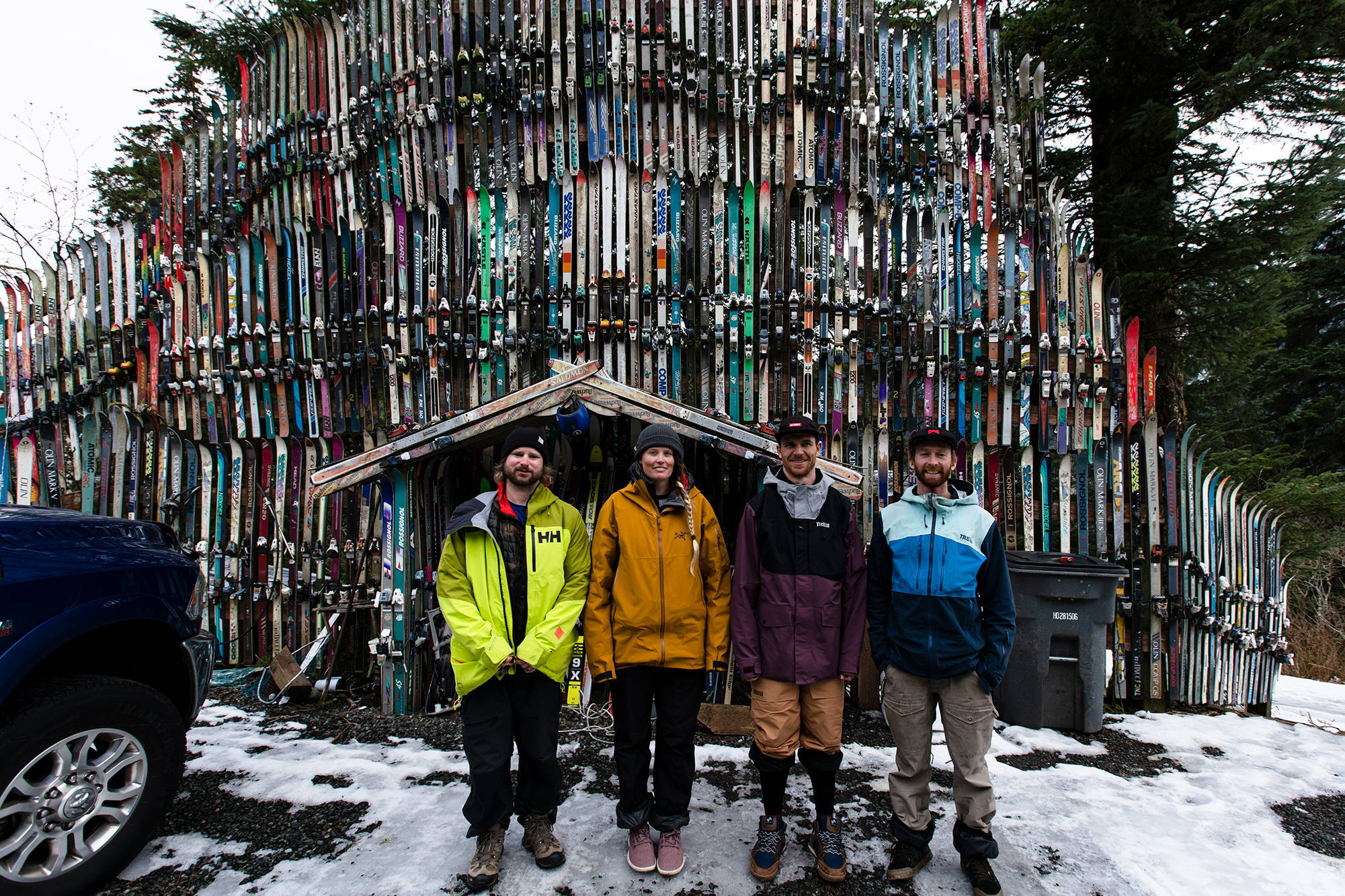 The Passage team in front of the biggest ski fence in Alaska. PC: Riley Bathurst

The next morning came fast. We rolled out of bed, grabbing coffee and some tasty artisan granola, before packing up hearty pocket sandwiches and hitting the road. Having explored many of Eaglecrest's north sidecountry zones, we opted to head towards the south backcountry zones off of Pittman Ridge. Finding a picturesque face, we ripped a series of soft turns overlooking the sparkling ocean below. From there, we headed towards an open bowl dotted with snow ghosts (frozen trees, which Eaglecrest is full of), and enjoyed almost 2,000 vertical feet of cold-smoke turns down to the valley below. After a short hike out along the Nordic track, we were back at the bottom of the resort, ready to do it all again.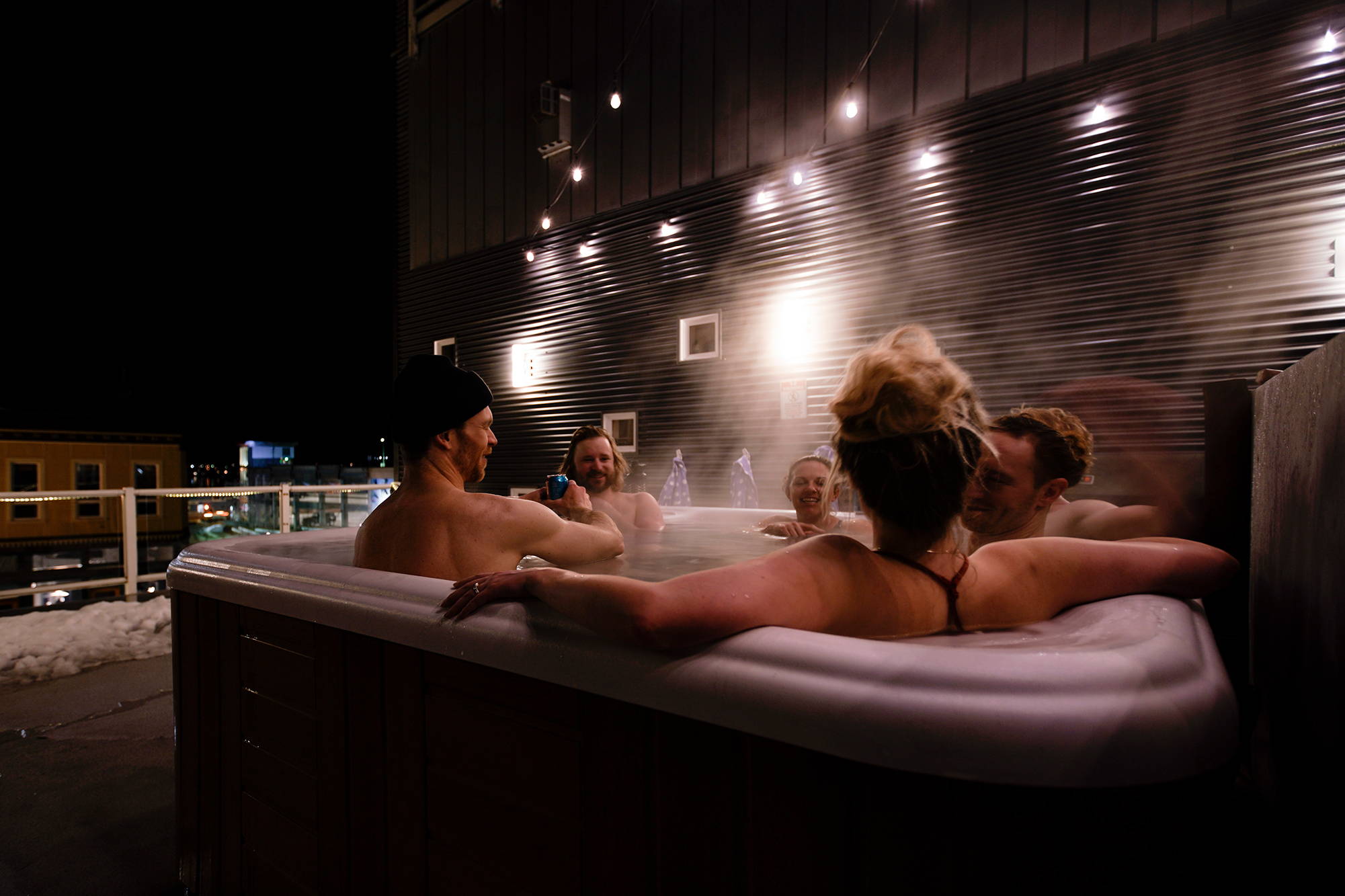 Apres hot tub session at the Silverbow Inn. PC: Riley Bathurst

Back in Juneau, we headed to dinner at V's Cellar Door, an upscale, creative downstairs eatery specializing in Korean-Mexican fusion. As a quick aside, I was blown away with the food in Juneau. Despite it's isolated location (which is only accessible by boat or plane), this capital city has a diverse collection of food options available at a reasonable price. Ready to soak our shred-weary bones, we finished up the night relaxing in the Silverbow's rooftop hot tub and taking in the evening views of the city.

Scoping lines on Mt Ben Stewart with Brian Stenerson. PC: Riley Bathurst

The following day, we broke out the touring setups and headed up from the bottom of the resort to the base of Mt. Ben Stewart, the highest peak on Douglas Island. This frozen giant offers a full menu of options from long, steep SE facing chutes, big open bowls, and a treed freeride playground of cliffs and straight lines. It took us about an hour and a half to make our way up the bowl to the peak, where we were met with yet another panorama of unreal ocean views. We transitioned over and made our way down to the entrance of the SE chutes. Unfortunately, the morning sun had baked the snow just enough that the afternoon shade created some tricky breakable crust. There were a couple of good pockets to be had, but we made our way down slowly and carefully to the valley below, ready to find some better snow on the lower East-facing playground. The snow in the lower zone was much better and we spent several hours putting down a series of fun lines on the canvass we had scoped earlier that day.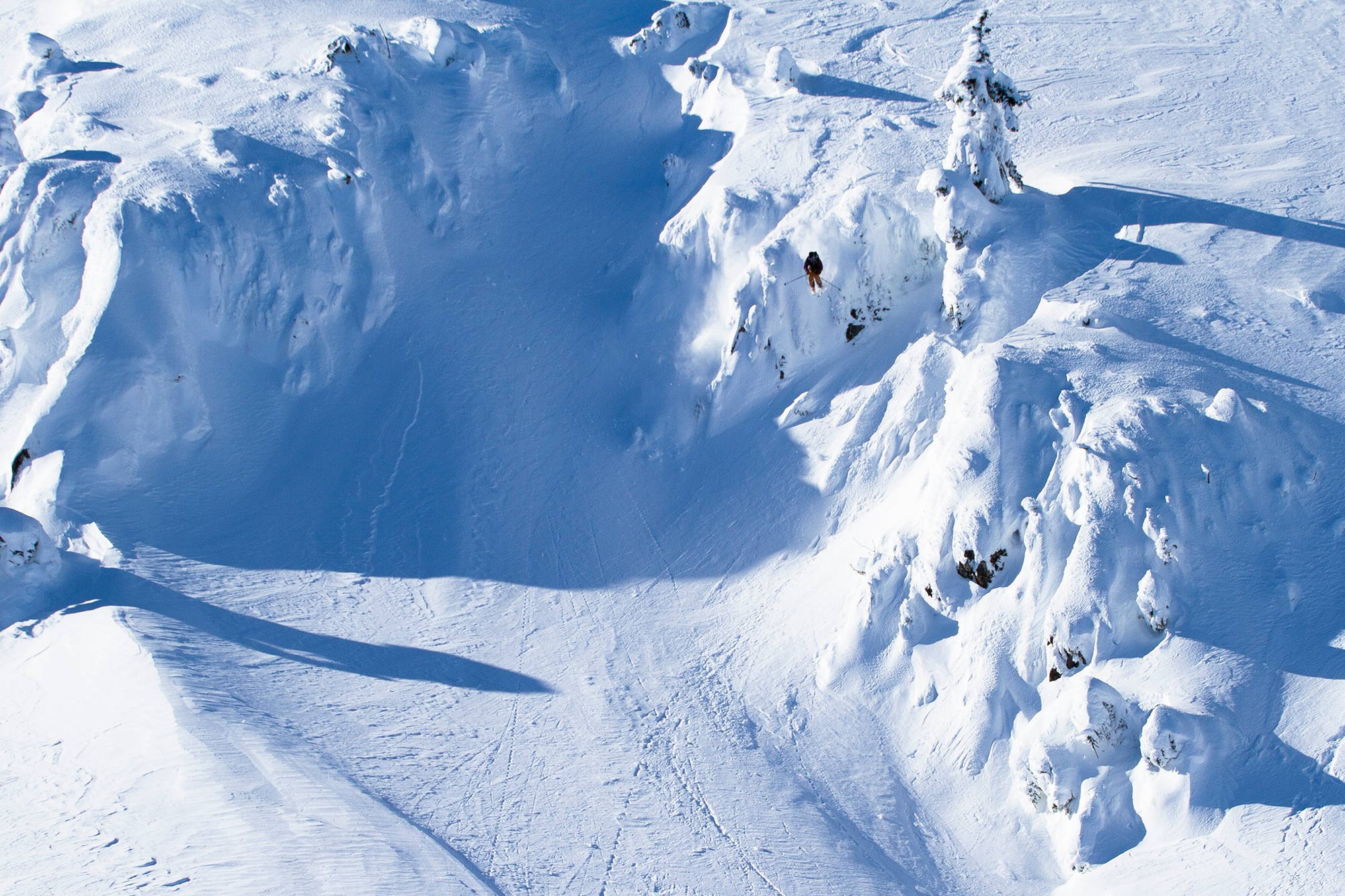 Blasting sidecountry lines at Eaglecrest. PC: Kenzie Morris

The sun was out on our last day, as we skinned towards the north side of Pittman Ridge. Our objective was a playful freeride zone we had admired on day one. Deciding it was the quickest route, we bootpacked up the face to access the multiple cliffs, side hits, and rollers that filled up the zone. With good snow and a lot of sun, we spent the day ticking off every conceivable line in this playful arena. That night, we celebrated an all-time trip with sushi and another evening hot tub session, before heading to bed. Excited to have a casual morning as we finished off our trip, the team enjoyed a leisurely breakfast before packing our bags and heading to the airport.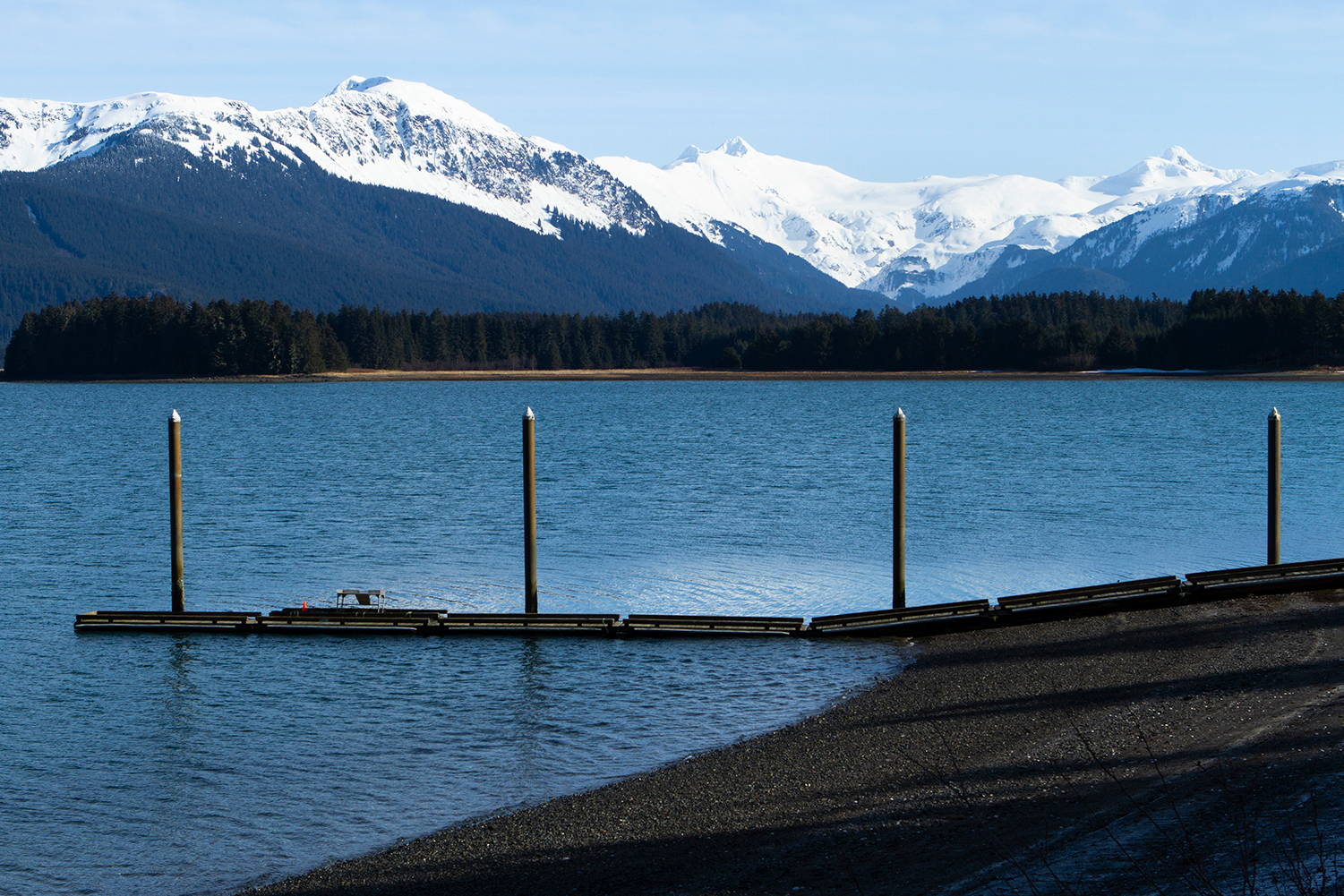 Looking across Gastineau Channel to Douglas Island. PC: Kenzie Morris

As the plane climbed high above the peaks on the Alaskan panhandle, I felt a sense of completeness. Being up in Alaska again felt like a return home and it felt easy. After four full days skiing an unbelievable combination of playful resort mini-golf lines and seemingly endless untouched backcountry big mountain zones, my perspective had changed. I guess skiing in Alaska was not as hard as I had imagined, but I'll definitely be back, just to make sure.