What Defines the Best Skis for Backcountry Touring?
Ski touring offers skiers the opportunity to venture away from the crowds of ski resorts in search of untouched powder fields. It enables you, the skier, the opportunity to navigate natural terrain and remote mountain landscapes. Venturing into the backcountry also comes with a level of risk, which can be reduced by carefully selecting terrain, studying backcountry safety and ensuring you have the proper gear. Skis are the foundation of your set-up and you'll need to consider important characteristics such as weight, width underfoot, and shape. Below we take you through our suggested skis, also touching on our recommendations for touring bindings, backcountry gear, and clothing options to make your journey that much better.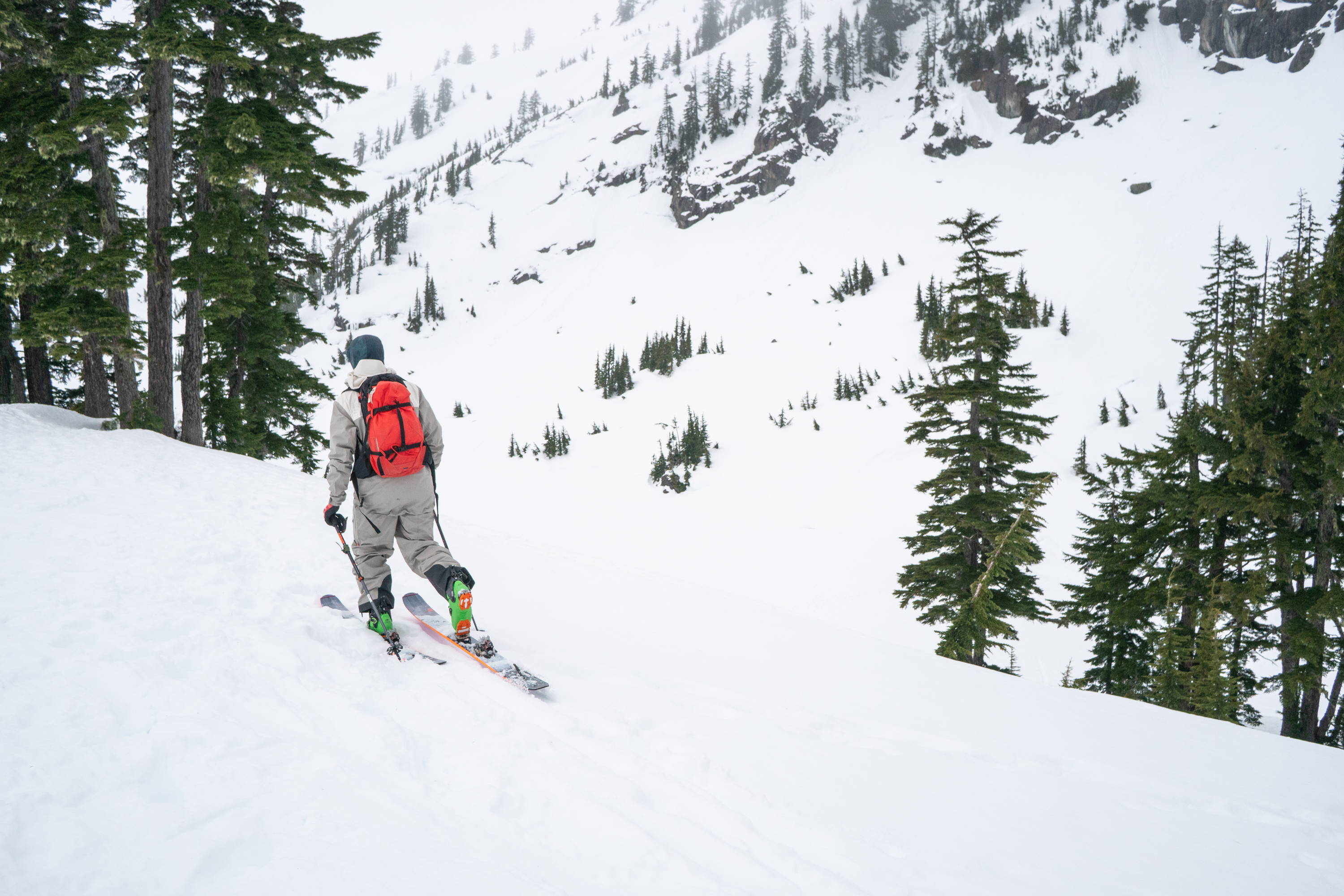 The Important Characteristics of Touring Skis (Put Simply)
At 4FRNT we believe deeply that touring skis should be really frigg'n fun on the descent too! It's a principle that big-mountain legend Eric Hjorleifson instilled in our brand nearly 15 years ago. Our recommendation for choosing your touring ski is to find a weight that is light enough to go a far distance at a comfortable weight without sacrificing any performance for the way down. When finding that balance between weight and ski capability, the skis to consider are the Raven 4-LOCK, HOJI 4-LOCK + HOJI CC 4-LOCK, and Renegade 4-LOCK. Let's find out which one is best for you.

*If you're unfamiliar with the 4-LOCK Skin System you can watch the video below or click HERE to dive deep.
Raven (104mm Underfoot): The Everday Touring Ski
To find the perfect balance of lightweight and excellent downhill performance, look no further than the 104mm waisted Raven 4-LOCK. This is Eric Hjorleifson's signature touring ski, built to handle long distances and a variety of conditions. At only 1800 grams, this ski feels incredibley light on your feet and is extremely easy to maneuver. This maneuverability and weight make it and excellent option for the tight trees of the East Coast, long spring approaches to the high alpine, or technical chutes in the Rockies. BLISTER Review just awarded it 'BEST OF' in the touring category for the second year in a row! "The 4-LOCK system cuts down on weight and bulk while improving functionality, and we also still just really like the Raven because of how well it skis. It can be pushed very hard, yet it is one of the easiest skis to ski - everyone from beginners to experts, take note." - BLISTER.
HOJI (112mm Underfoot) + HOJI CC (112mm Underfoot Womens Specific): The Powder Oriented Touring Ski
While still keeping weight in mind, the HOJI 4-LOCK and HOJI CC 4-LOCK unlock a whole new world of powder skiing exploration. With a slightly wider platform underfoot, 112mm, skiers can float through bigger snowpacks with ease. Using carbon fiber layups and our weight-saving 4-LOCK system we are able to keep the grams low enough to feel comfortable on the ascent but still provide enough stability for big mountain descents. Just because you want to tour uncharted terrain, doesn't mean you can't have a blast surfing through powder on the way down.
RENEGADE 4-LOCK: The Best Powder Touring Ski Ever Shaped
There's a saying among 4FRNT fans... "ALWAYS BRING YOUR RENEGADES." The Renegade really might be the best deep powder touring ski ever shaped. Of all of Hoji's skis, this is what you'll find him on most days (especially when he's home in British Columbia). It's a 122mm underfoot ski that maintains a shockingly acceptable weight for moving comfortably in the mountains, perfect for skiers chasing powder in the Rockies, Pacific Northwest, British Columbia, and Japan. It now comes with Eric's groundbreaking integrated 4-LOCK Skin System giving you a total package for bashing pillows, stomping cliffs, and airplane touring like Hoj.
Advice from EXUM GUIDE and Team Rider Ben Hoiness
"The skis from the 4-LOCK Collection are my suggested skis for backcountry guiding in Jackson Hole, Wyoming because the lineup has everything you need for any condition and type of terrain those mountains throw at you. When it's deep and I'm chasing fresh snow, the 112mm HOJI 4-LOCK and HOJI CC 4-LOCK (women's specific) is the absolute answer. I guide on the Hoji more than any other ski. I grab the Raven 4-LOCK when the snow isn't as deep, especially for early and late season, but honestly at 104mm underfoot I could ski it all year. Both are so efficient and straight-up fun." - Ben Hoiness
Touring Bindings and Other Essential Gear (Read 'How To: Choose Bindings' HERE for a full overview on bindings)
Pin-Tech bindings utilize a pin design in the toe and heel that deliver a balance between touring functionality, lightweight, and solid downhill performance. Our recommendation here is the Dynafit Rotation 10 and Dynafit Rotation 14. These bindings offer elastic travel, high release values, and maintain a light construction to match your skis. These are what 90% of our Team Riders trust.
For other essential gear for backcountry skiers, look no further than the UpTrack Collection. This is a curated set of gear, accessories, and apparel for the dedicated backcountry skier, designed and tested by our Team Riders.